Iran is located in western Asia and it is also the second largest country in the Middle East. Iran is an ancient land of glory and beauties inheriting greatness of the Achaemenes, with historical attractions, housing over 20 UNESCO world heritage sites and many more to explore. It has a wide variety of ethnic groups who live in peace and harmony as one nation next to each other. Iran is definitely one of the most awesome and affordable destinations for travelers due to its deep history, rich and multidimensional culture, geographical diversity, marvelous architecture, and also the most delicious part, Iranian food.
Let's take a look at our reasons
Tour operators and travel agencies play an essential role in travel industry in Iran. Honestly, they are main elements of tourism industry to coordinate trips to Iran. Eligible travel agencies can help travelers to spend time well at their desired destination via helping them to make informed decisions and make the most of their time with an optimized and well scheduled itinerary. There are a wide range of Iran tour packages, which eligible travel agencies can offer. Diverse kinds of tour packages, give travelers more options to choose from. Your travel style is absolutely dependent on your budget and your aim to travel to Iran. The good news is our travel agency, Artin travel offers different kinds of Iran tour packages and tailor made tours according to travelers' interests, time, and budget.
Qualified travel agencies can help travelers in many ways. You can say that, one of the most important assistance is via receiving visa. As a whole, there are generally three ways of applying for visa: 1.Travel agencies based in Iran, 2. The e-visa website for the Foreign Affairs Ministry of Iran and visa on arrival (evisa.mfa.ir), 3. Embassies and consulates of Iran in different countries. Actually, doing paperwork for the visa can be confusing, especially for first time travelers. Definitely, the best way to acquire a visa is via a trusted and professional travel agency in Iran which can provide the best travel advisory and recommendations for the entire trip. The first and the most important reason is that they know all the rules completely. Applying for visa requires a host in Iran, as a result an official and eligible travel agency is a reliable host and will be in charge of your trip during your stay in Iran.
Qualified travel agencies can also make sure their travelers' convenient stay by recommending the best accommodation based on their travelers' preferences, closeness to tourist attractions and quality of service. Saving time, considering safety, providing helpful information about trip and also offering standard public and private transportation systems are other benefits of trusting a professional travel agency.
Fortunately, Artin travel as an innovative company and a professional team with years of experience in Iran's tourism field is dedicated to satisfy customers' expectations offering a wide range of services including a variety of tour packages, hotel reservations, visa procedures, and transportation planning or even car rental. Tourism experts at Artin Travel spend 30-40 minutes meeting individual travelers online to learn about their interests and o­ffer the best customized tours of Iran. As an Iranian travel agency, our goal is to provide quality service for small groups and individuals with special interests who are asking to have tailor made tours. Note that our tailor-made tours are at different levels from budget to premium. Furthermore, the wide network of connections and professional engaging team enables us to be agile enough to respond to the last second inquiries. We ensure that our team will offer you high quality services matching your budget and expectations.
Classic and Cultural
This Iran tour package will guide you through the historical attractions of Iran and dig deep into the cultural aspects of each destination. Our tour will begin in Tehran, and we'll advance to Isfahan, Shiraz, Yazd, Kashan, and Kerman. You will step into the ancient Persepolis, explore the magnificent Naghsh-e Jahan square, visit the Pink mosque, and walk around Eram Garden. But this is just a preview of all the amazing places you will see in Iran. Remember that a considerable number of these landmarks have even been inscribed as UNESCO World Heritage Sites. This package is consisted of four options as following:
1.Iran east nature and island life treasures,
2.Iran north west-from the modern capital to Caspian Hyrcanian forests,
3.Iran discovery-Time travel to the capital of the Achaemenid Empire,
4. 8 days 8 UNESCO world heritage tour.
Culture and Venture
As its name indicates, such a trip calls for more time so that you can get the best of both adventure and culture in Iran. As a result, you will visit more destinations and spend more days in Iran. We will hit the road to the cultural destinations of Iran in Isfahan, Shiraz, Yazd and Kerman. Then according to the travelers' preference, we will take the adventure road to the central or southern deserts of Iran, or the mountains "Alborz and Zagros".
Adults looking for an adventurous and cultural experience of Iran will particularly enjoy this kind of Iran tour package. One more item to mention is that the time of the tours may vary around the year, depending on the adventure destinations and activities chosen by the travelers. Let's have a preview of the packages in this group:
1.Family friendly tour-Wonderful Iran trip with kids,
2.Wild Life Tour in National Parks of Iran,
3.Iran East Nature and Island Life Treasures,
4.Culture and Adventure tour-Do not miss nature while visiting Persias's jewels.
Active and Adventure
With this package, you will experience the real taste of action in Iran. In this Iran tour package, you will mainly be engaged with adventures in unique spots of Iran. We offer you four different packages which encompass all kinds of actions and adventures that you need. You can have an adventure in Iran national parks, have a journey through the beautiful nature of east and center of Iran in search of jewels of silk road path, ski in Dizin and Shemsak(which is our best sale), experience depth of caves, try a bike tour around Persia, go diving in Persian Gulf, and also explore Iran deserts which are world-class.
This Iran tour package includes all the following tours:
1. Wild Life Tour in National Parks of Iran,
2.Iran East Nature and Island Life Treasures,
3.Iran Dizin & Shemshak Ski Tour- An Amazing Travel, Sport, And Fun,
4.Iran Desert Expedition-Excitemet of Safari in Iran Deserts.
Special and Experience
In order to experience a different lifestyle and to get free from the routine and stressful atmosphere of city life, you should consider this type of Iran tour package. We will live with the local people of Iran, immerse in Iranian culture with a variety of subtours such as cuisine and handicraft tours, and also the most amazing one, "wedding and honey moon tours". And also, one more thing, with this package you have a chance to visit the most picturesque sites and have professional photography tours. The only package that we offer in this group is Iran Nomads Tour-Experience nomadic life and travel with them.
Family Friendly Tours
Definitely, Traveling with family needs specific requirement and planning, so when it comes to travel abroad with kids, a lot of parents would eliminate a list of destinations due to many reasons like distance, travel ease and hospitality. Iran is a young country and there are family friendly attractions that will make a trip with kids just as enjoyable as traveling with friends. So, traveling to Iran with your family can be a rewarding experience. Our family friendly tour has been designed with the comfort of kids, stress free of fixed timings, on-hands experiences for kids, family friendly accommodation, and also budget friendly packages. This Iran tour package includes just one option called " Family friendly tour-Wonderful Iran trip with kids".
Tailor made tours
In this Iran tour package, you can choose your dream destination and experience what you wish. So, you can design a mix style trip according to your desires. Limitations have no place on this tour. Your trip can last long enough to accommodate your itinerary, and it can take place whenever that best suits you. And also, like any other tours that we offer, your privacy all tour round is guaranteed. Some of the features of this package are as follows: visit as many historical and cultural landmarks, travel to your favored cities, experience the adventure in Iranian highlands, deserts, beaches, and caves, get the essence of Iranian life with the locals, have your kids enjoy the trip. Let's get started to customize your trip by filling out the form in this group.
All other enclosed services to our Iran tour packages are as follows:
1.Visa Procedure
Visa procedure is usually the least exciting thing to do when planning a trip to a new destination that is why we are ready to do all the work done. It is essential to know that nowadays various types of Iran visas are received by foreigners and the visa type completely depends on your aim to travel to this country. Visa procedure related to all kinds of visas is not the same and it follows some rules. If you intend to travel to Iran, you are supposed to receive a tourist visa. And also, if you decide to apply for it via Artin Travel, be relaxed because we are with you in all steps. The agents at Artin Travel Agency are always on call, take care of the smallest details, and get your visa at the shortest period of possible time.
2.Transportation planning
Transportation planning services is our profession, either you are planning to travel by car, air or boats all over Iran there is a perfect offer you. Since we have been in tourism and transportation market for more than 15 years, there are almost no routes and destinations uncovered by our team. As an obvious fact to any traveling group, transportation and especially the vehicle specification and convenient plays a crucial role during the travel, therefore; it needs to be planned some time in advance with a supportive service provider. Our professional team is our most precious asset that will assist you and your group at any stages of travel.
3.Medical Tourism
As its well-known across the world, Iran is one of the most successful and prestigious countries in offering cosmetic and medical treatments. Iran is known as the 'nose job capital of the world' for the great number of nose surgeries performed in. World-class clinics and modern hospitals followed by advanced technologies, coupled with experienced doctors and surgeons have put Iran in the spotlight of the medical world. Artin travel is skilled in providing this awesome kind of Iran tour packages, which their highest medical standards are guaranteed by us. Honestly, we ensure you can enjoy the best health tourism services with effective treatments.
4.Accommodation
Di­fferent kinds of accommodations offer their services to travelers in Iran, such as licensed hotels, boutique hotels, hostels, motels, guest houses, traditional houses and ecolodges. The wide network of best accommodations in Iran enables us to recommend the most suitable accommodation based on our travelers' preferences, closeness to tourist attractions and quality of service. Be sure that safe accommodation is going to be your last concern.
5.Car Rental Services
If you like to hit the road on your own, like to travel in peace, or even enjoying the scenes without any rush, Artin Travel will help your wish come true.
According to our wide network, our small and medium cars are in service at any city in Iran. Our reservations are at standard level exceeding your needs.
In fact, we are providing various car rental services according to what you require.
The good news is we are going to offer you some special Iran tour packages, which we promise to make your trip memorable. So, let's have a preview of them.
Group tours and FIT
Group pre-scheduled tours
In this package, we are offering small group tours both in peak and low season for maximum group of 10 people. It is amazing to declare that some lifelong friends have come from these trips. Maybe, those who you can explore the entire world together. Planning stage of travel is exciting and also very important. However, sometimes, it's amazing to have all this stuff planned for you. Let someone else do them and you just enjoy it. Also, group trips can be somewhat cheaper due to a variety of group discounts and promotions. So not only can group trips be easier on your frame of mind, but they can also be easier on your wallet. Remember, If you travel in a group, you absolutely have this chance to visit "must see" destinations and local hidden gems. These are often places you simply cannot find on your own, or you need an insider tip to find it. The last but not least benefit of these Iran tour packages is that group tours ensure your safety based on two reasons: First you're most likely travelling out in group rather than alone, especially at night. And second, your guide will have been to the area numerous times, and be able to give you useful tips about your trip like how to spend your time well and also, how much money you need.
Special interest group tours
If you want to find like-minded people, looking for the same thing, it is going to be amazing to join this tour. Special interest group tours are designed for tourists aiming to have a unique experience of destination. There are a lot of options available from birding tours to honeymoons or only women tours during this Iran tour package. Honestly, in this kind of tour, you share travel stories, have similar interests, and most importantly you've made the same decision to see the planet together. You also have this chance to get really close to your newly made friends, really quick. So, friendship becomes deep really fast. According to our experience, a friendship built on the premise of shared interests tends to last longer.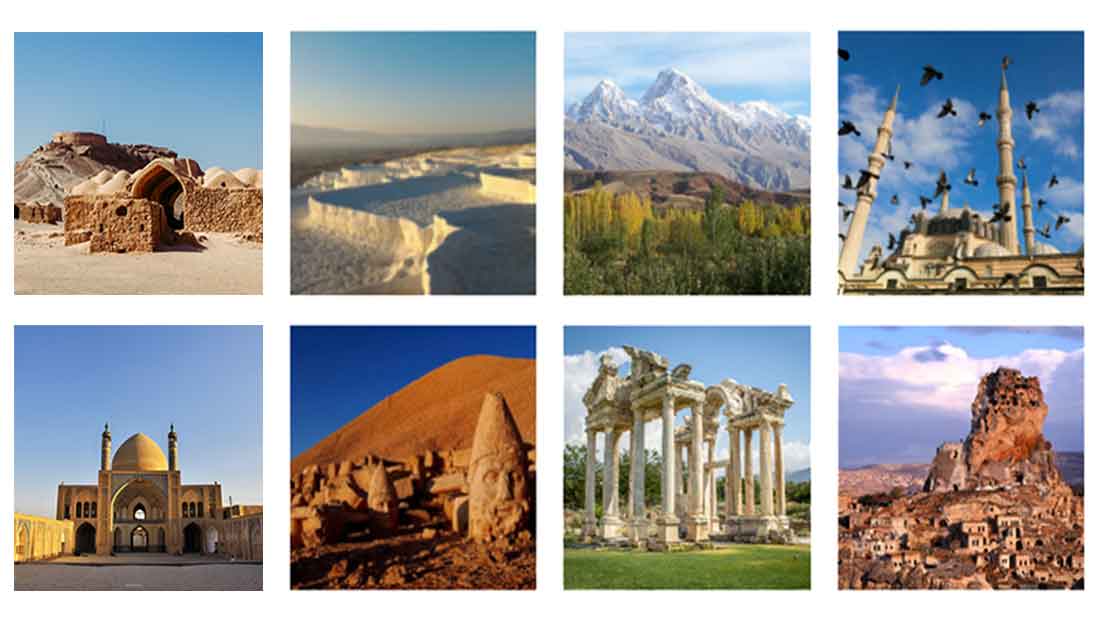 Individual travel planning
We offer individual travel plans for tourists who like to have private tour, too. To be honest, individual travel is something everyone should try at some point in their life. There's no better way to get to know who you are exactly than by spending time with yourself away from the distractions of life. The First benefit of individual travel is that it forces you to become independent, make decisions, and step out of your comfort zone on a regular basis-something you wouldn't necessarily do if you weren't traveling alone. Visiting new people is what most tourists love about travelling. A lot of travelers will assume that if you're already in a group, you don't want to be disturbed, and will turn to the solo traveler almost every time. Sometimes couples or groups can seem like an impenetrable unit. Solo travelers seem to invite other people to start chatting without any doubt, you will find that when traveling solo, you're much more approachable than when you're in a couple or a group. In this type of Iran tour package, you can set flexible schedule, visit wherever you like and do whatever you want. Instead of having to plan around other people, your schedule is entirely your own.
But also note that, individual travelling has its disadvantages. Let's take a look:
Facing higher costs: You can say that the most important item that most tourists care about is cost inflation while traveling solo. Solo travelers often miss out on discounts offered by companies. They have no one to split costs with, so they have to afford it all themselves. Definitely, traveling in groups is more cost effective.
Safety issues: Travelling solo is not necessarily a safety risk, so you need to consider personal safety more carefully. If something goes wrong there's no companion to get you out of a jam. Traveling in lesser known trails could lead to unexpected security issues, which you have to deal with lonely. Somehow, it can be the charm of solo travel, the real sense of adventure and exploration. Do you agree?
Missing human connections: You have no one to share excitement, special moments and also discuss with. You know, traveling alone means doing everything alone. In fact, there is something special in the joined experience you get while travelling in pair.
As we mentioned, there are a number of advantages and disadvantages of Individual travelling. It is up to you to choose it or not, but before making any definite decisions, consider all the aspects.
We surely do recommend any type of Iran tour packages, because it will make you more relaxed and prepared for the rest of your life. As you know, travelling will broaden up your horizons and make you learn new things. However each kind is specialized for different types of desires. Before booking your ticket, you can contact us to help you more about choosing the best package that fits you.