IRAN TRAVEL
The Real 4 season Country: IRAN
Iran in West Asia, the second-largest country in the Middle East and 17th largest country in the world. This beautiful country has great nature, vast deserts, snuggery beaches, and impressive mountains. leave aside what ever you have heard of being 4 season, there is a real one: IRAN. your plan on the trip is hiking, skiing in a day one, the next day you are going for swim in Persian Gulf, next day, you can have a choice of ice creams or hot drinks in two relatively different hot or normal weather conditions in Yazd or Shiraz! IRAN will be a memorable travel where you can express stories to friends through out your life.
Watch Peter Santenello's youtube video on "11 Reason why you should TRAVEL TO IR.IRAN":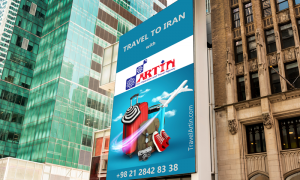 Weather Condition Comparison
Difference between some Northern European countries and IRAN defined in image: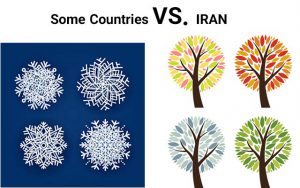 If the weather condition of some European countries be like the left side of the above image, so Iran's weather condition would be as the right side!
Travel to IRAN
For traveling to Iran, you can find several reasons like gentle landscapes and interesting museums. Iran is a country with four seasons. You can find all the seasons at the same time. In addition, Iran has a rich history. You can find an imperial historical place with impressive architecture in Iran. For travel to this wonderful country, there are many ways. If you are a tourist from the neighboring country I can recommend your car journey for enjoying attractive roads. A sea trip is a good option, too.
Read Other Posts – Learn More
Decide to VISIT IRAN
2020 Travel Packages
Tailor Made Tour
IRAN Travel GUIDE
Best Travel Agencies
If you are not a tourist from a neighboring country, the plane journey is the best choice for you. In 2016 the majority of visitors have arrived through land were (64.7%) and (34.6%) have used airplanes as mean of travel. In Iran travel blog 2020, you can find a good Iranian travel agency that provides you an Iranian visa. Most of them have the same Iran travel services. Iran travel packages like making travel arrangements, booking return and outward flights and booking a smart hotel.
Best time for traveling to Iran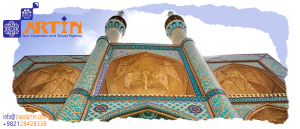 According to Google Trip Guide, the best time to visit Iran is during the spring and autumn. In these seasons, most parts of Iran has cool weather. Winter is not recommended because the temperature can become very cold or maybe weather breaks. According to Iranian law, women must wear a scarf, so we do not recommend travel to Iran in the summertime.
In my opinion, the best time to travel to Iran is the Nowruz holiday. Iranian people celebrate the first days of spring. Nowruz is an ancient festival. It starts from 20th March to 14 days later. In this time you will enjoy the spring weather and learn about Iranian customs that are performed at Nowruz. These customs are a sign of rich culture and histories like setting Haft- sin table and the meaning of each of them. When you want to travel to Iran, check the Iranian calendar because some days of the year are the legal holiday that religious mourning and in these special days stores are cloze and you should perform some customs.
If you want to travel to Iran, You would search and gain information. Thus, if you want to travel to Iran, you would check the Iran weather forecast. If your Iran travel budget is low, September and October are pleasant months to Iran trip because prices will be slightly lower than in spring.
| | | |
| --- | --- | --- |
| | Set your 30 min personal travel advisory meeting! | |
Iran travel around
In the north of Iran, you can see sandy shores, broad rivers and dense forests with rainy and cool weather. Southern Iran has a range of towering Zagros Mountain, Khuzestan plain, Persian Gulf and Strait of Hormuz with humid weather. The Persian Gulf has amazing islands that have lots of wonders. Eastern Iran includes a large salt desert which is called Lut Desert. Lut Desert is one of the driest and hottest places in the world.
In the west of Iran, there are many cities and towns like Tehran (capital of Iran) and Qom. Most of them located in the Zagros Mountains stretch from Turkey to the Persian Gulf. Iran has lots of cities and villages that are different from each other. They are different in wearing clothes, making food. These differences are related to where they live. Every part of Iran has a special accent and culture.
It is common among Iranian people is generosity and hospitality. For travel around Iran, you just need 13 days, although Iran is a big country and you should put more time to have the journey around Iran but with a great and sufficient plan it may happen. You can visit the most important point part of Iran to make a great image in the tour mind. You can search and find a great tour and start your Iran trip with their plans.
They have more experience and knowledge which is the best place to visit. They will help you. In this way, you can enjoy your Iran journey with calmness. Tour guiders mention some tips that Iranian people know them that you should obey them. So, trust in Iranian tours.
Where we go to Iran travel (cities and place tourism)
In Iran travel blogs surely write about cities and place tourism, so use from Iran travel advice. If you do not want to go with the tour you can check Iranian travel map and gain information about them and start your Iran trip. Maybe using Iran travel guide is a good choice.
You can start your Iran journey from capital and visit historical places and museums and continue your Iran journey with other cities. Important cities like Shiraz, Isfahan, and Yazd. The most popular tourist destinations in 2016 were Mazandaran province, Mashhad, Gilan province and Fars province. If you are looking for the natural beauty of Iran, we recommend you Mazandaran province, Gilan province. If you are looking for historical places, we recommend you Fars province and Isfahan.
If you visiting Iran and like go climbing, visit Sahand and Damavand mountains. Do not forget to take sufficient supplies. The other suggestion is Mahalat-the capital of flowers-in Iran. Mahalat is the best choice for the springtime when flowers and grass sprouting and make a wonderful landscape. Be sure to visit Perseespolis as the capital of the first empire and candle of Persia civilization. It is even possible to say that you have not taken Iran well until you have stepped on the land of the old kings.
Iran travel, how many each year?
Tourism in Iran is diverse and provides a range of activities like hiking and skiing. The Iranian government has tried to attract foreign tourists. The 2008 figures from the World tourism organization show the number of European visiting Iran is increasing and every year the number of Asian Muslim visitors is increasing. After 2014-2015 every year Iran has four percent more year-on-year. In 2016 Iran is the most price-competitive destination worldwide in 2016 and lots of tourists choose Iran as a historical destination to visit.
We can not give the exact number of visitors that each year visit Iran but the number of them is increasing. Tourist reminds Iran land of culture, tradition, art, history with natural beauties like deserts, forests, plains and seas that they will choose it again because it is a secure country and needs the meets of a foreign tourist.
Is Iran travel safe?
Iran is a very safe place to travel, Many travelers describe Iran as the safest country they have been to or much safer than in Europe. Although Iran is located in the Middle East and Iran neighboring countries are in turmoil but Iran is in complete security. In Tehran (capital of Iran) is a very safe place for travelers with low levels of street crimes, It is generally okay to walk down in most central and northern part of Tehran at night but you should be more careful about southern parts at night.
Generally, Iran's travel safety is high. Every country has special laws and norms that everyone in that country has to obey the rules. Iran is an Islamic country with Islamic laws you should respect some rules. Iran travel warnings like wearing a scarf. Women in Iran must wear a long coat with long-sleeved and cover their heads with the scarf. Men must wear long pants but the T-shirt is fine and there is no law that men must wear a long-sleeved shirt. The other important law is that you can not carry or drink alcohol and use drugs.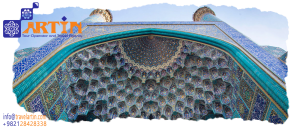 How much does Iran travel cost?
You can find the average and supposed cost in Iran travel blog or in Iranian travel itinerary which tourist was written about Iran. Much money that you will pay on the Iran trip, it depends on the hotel and flight which you book. For example, if you choose a smart hotel or 5- star hotel you definitely will pay much more money.
The other thing that may raise your costs is eating meals in luxury restaurants for trying traditional foods. In addition to the money that you pay for transporting or visiting museums, you maybe pay money for buying souvenirs or handicrafts. I recommend you search in an Iranian travel blog and read tourist's comments about restaurants and shops and historical places. In this way, you can use them from their experiences and choose consciously. The important point is the price of staff and booking hotels in the capital and important cities are higher than the other cities.
Iran travel is one of the tourist's suggestions. In tourist personal weblog you can find Iran travel advice, Iranian travel tips, and Iran travel guide. If you do not make your travel arrangements I will recommend you checking Iran travel blog 2020 for taking Iran travel advice, checking Iran travel agency list and Iran travel tours that provide a travel safety for you.
Safe journey!
Follow us on instagram